Welcome to the Central Baptist Church website
Glorifying God by Worshipping, Witnessing, Growing and Loving
---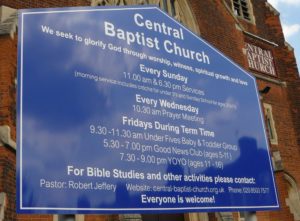 NO Evening Service, this Sunday, 28th July 2019
After our 11.00am morning service this Sunday, 28th July, we have a fellowship lunch. This will be followed by a time of afternoon devotions, and so we will not have a 6.30pm service this Sunday. Our 6.30pm service will resume every Sunday from 4th August.
Mission Impossible – Holiday Bible Club!
BibleZone Club – at Thomas Gamuel Park!
For more details, click here.