Welcome to the Central Baptist Church website
Glorifying God by Worshipping, Witnessing, Growing and Loving
---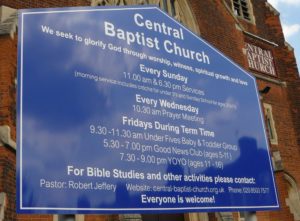 CORONAVIRUS LATEST : ALL SERVICES AND ACTIVITIES ARE CANCELLED
Following government advice on avoiding social activities and non-essential travel, we are cancelling all services and activities with immediate effect. This means there will be NO services, prayer meetings, home groups, Bible studies, youth or children's groups. When we re-open, we will announce this here and on our Facebook page.
LIVE STREAMING OF SERVICES ON YOUTUBE
We will be streaming our Sunday services, God willing, every Sunday at 11.00am and 6.30pm. We have a new channel on YouTube called "Central Baptist Church Orford Road Walthamstow". Because it is a new channel, you may struggle to find it just by searching. But you can click here to get to our YouTube channel, and then just click on the video you are interested in.
If you have any questions, click here to send us a message.
If you would like to read the Bible with us online, click here for details!